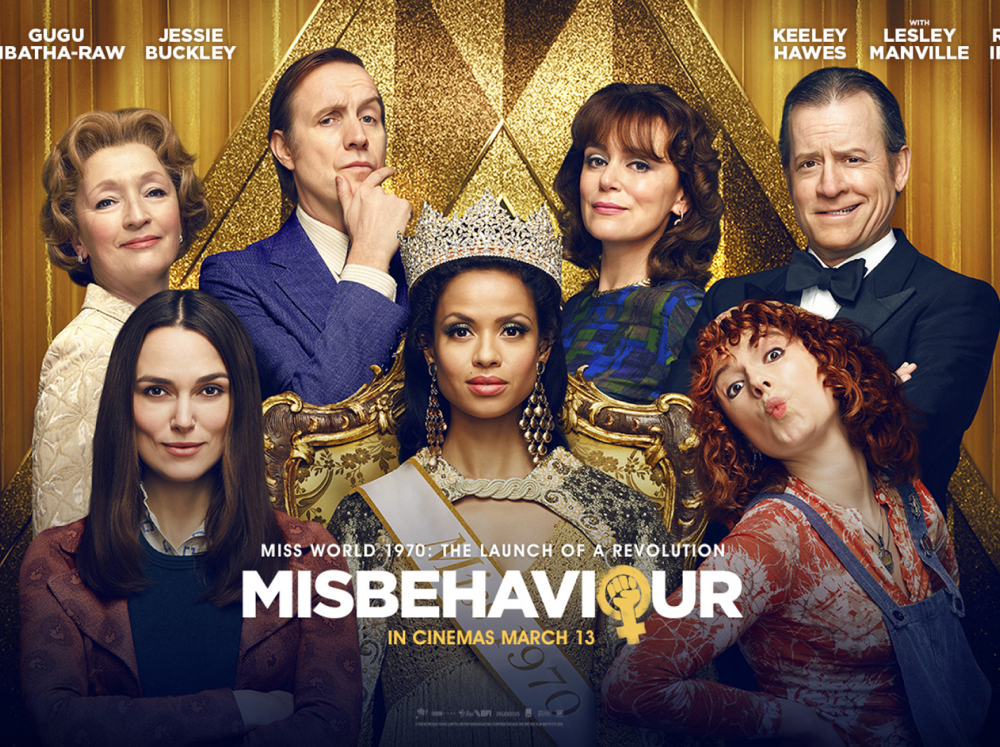 Despite the film not being able to transition quite so smoothly between its two binding themes, there is a lot of entertainment on show, and that is mostly thanks to the truly excellent cast of performers in central and supporting roles. Keira Knightley seems to excel in any role that puts her in a time period other than our own, and as Sally she effortlessly exudes that sort of 1970s early intellectual feminist attitude, an attitude that is wonderfully contrasted by the more militant activism and charisma of her friend Jo played by Jessie Buckley. Together those two actresses are the key figureheads for the Women's Lib element of the film, and they are great.
It feels against the message of the film to say, but I need to stress just how irresistibly resplendent Gugu Mbatha-Raw is as Miss Grenada Jennifer Hosten. The grace, serenity and knowing intelligence that both the character and actress possess is a captivating joy to watch, and Mbatha-Raw along with Loreece Harrison as Pearl Jansen (the first black Miss South Africa) provide a necessary and thought provoking contrast for the audience, helping us to see how the pageant, as strikingly 'cattle market' as it might be, was one of the very few avenues for a minority to be given a platform.
Overall, Misbehaviour falls in very neatly with dozens of other British comedy dramas of its like, not quite the top tier, but still far from being anything close to bad. Given the subject matter and themes involved, it perhaps doesn't have quite as much bite as I would have personally wanted, but a handful of really great performances along with that quintessentially 'comfortable' British quality make it a solid enough watch.
As for the immediate future of this blog, I'll try to catch new releases on home cinema as and when I can, but the main thing is that we all stay safe and be sensible. Hunker down, build up that Netflix queue, and enjoy doing your part to prevent this shitty virus from spreading to those more vulnerable than ourselves. See you soon!